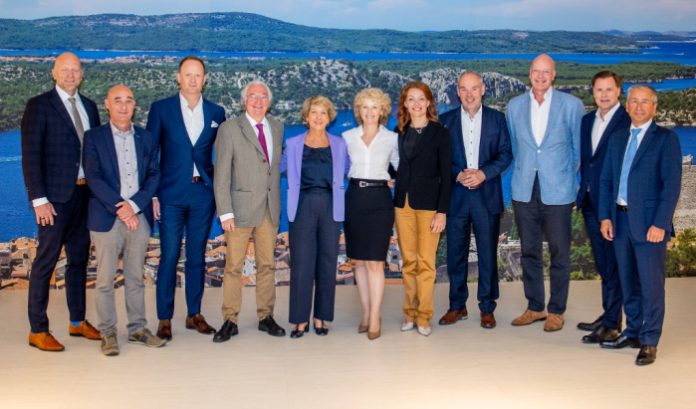 Romana Girandon, CEO and President of Slovenia's Loterija Slovenije, has been elected as the new President of the European Lotteries (EL) at the organisation's latest General Assembly.
Girandon will hold Presidential duties at the continental national lottery umbrella organisation between 2023-2025, and replaces Hansjörg Höltkemeier, who has now become Honorary President.
She is the first female President of the EL, and will conduct her duties whilst continuing to serve in her current positions at Loterija Slovenije. Meanwhile, Höltkemeier – who is CEO of Germany's Deutsche Klassenlotteri, will become Honorary President.
Girandon remarked: "I am delighted to be elected EL President at this year's General Assembly. This is a real honour, and I would like to thank the Members for trusting me to lead EL in the next mandate.
''Over the coming years, I look forward to fulfilling my role together with a strong and experienced Executive Committee, to prove that we, The European Lotteries, are here to benefit society.
"Together we can make a difference and provide a new momentum for a sustainable and responsible future. I would like to thank especially, the outgoing President Hansjörg Höltkemeier, now EL Honorary President, for his dedication and commitment to EL over the past eight years and wish him all the best for the future."
Several other members were also elected to the EL Board. These were Olgierd Cieslik of Poland's Totalizator Sportowy, Jannie Haek of Belgium's Loterie Nationale Loteri, and Jesús Almendro Huerta of Spain's Sociedad Estatal de Loterías y Apuestas del Estado (SELAE).
Other nation's represented include Switzerland via Jeane-Luc Moner-Banet of Loterie Romande, the Netherlands via Niels Onkenhout, France through Stephane Pallez of La Française des Jeux (FDJ), Italy through Rosangela Robbiani of Sisal and lastly, Finland via Olli Sarekoski of Veikkaus Oy.
Additionally, the EL also announced two new members at its latest General Assembly, boosting its representation to include the Czech Republic's Loterie Korunka and the Maltese National Lottery. Suppliers OpenBet and Fennica Gaming were also named Associate Members.
President Girandon has been a member of the EL's senior leadership since August 2019 when she assumed the role of Supervisory Chair Corporate Social Responsibility & RG 
In this capacity she played a key role in developing the EL's approach to environmental and sustainability issues, whilst becoming an Executive Committee Member in June 2019 and Vice President in July 2021.