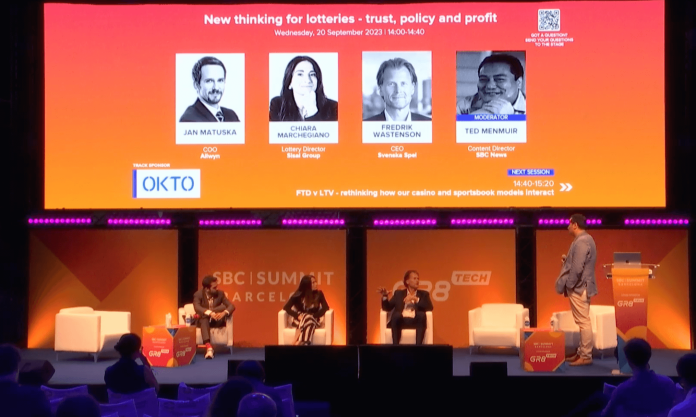 Recognised as the most stable and ever-present business segment in global gambling, 2023 has seen the lottery sector undergo a tectonic shift in its competitive makeup.
A playfield reserved for giants has evolved. Across European markets, lottery operators have emerged from a period of profound reflection, prompted by changing consumer demands after two years of pandemic-induced adjustments.
Consequently, new perspectives on 'trust, policy, and profit' were introduced for discussion by the leadership of European lottery behemoths at the SBC Summit Barcelona.
"Undoubtedly, we are in a period of disruption," observed Fredrik Wastenson, CEO of Svenska Spel Sports & Casino.
He continued: "This is evident when examining our distribution. Our retail business was significantly affected by the pandemic, leading to a structural change propelled by consumers who sought smoother self-checkouts at the point-of-sale."
Addressing this change proved challenging, given the need to adhere to new regulations. "Customers must provide verification to purchase lottery and instant-win tickets," he added.
Wastenson highlighted the inconvenient experience of Swedish consumers: "They can buy their groceries but must summon a shop assistant to verify their age and ID for a lottery ticket purchase."
He emphasised: "While the opportunities for innovation and improved customer experiences are glaringly obvious, we must honour the regulations and laws governing lotteries. This is a consistent reality across markets."
The stringent boundaries of regulatory discipline imposed on lottery incumbents are acknowledged by Jan Matuska, Chief Operations Officer (COO) of Allwyn International.
However, from Matuska's vantage point, a clear distinction exists between lotteries and other gambling products. He opined that "lotteries should vie for a portion of a consumer's entertainment budget."
He continued: "This ought to be a universal consideration for lotteries. We aim to harness the public's aspiration to win big with minimal investment, emphasising the entertainment value."
Matuska observed that many European operators, despite the pandemic, haven't adjusted their entertainment offerings, retaining a traditional emphasis on in-store scratch and lottery ticket sales.
Allwyn's novel approach to scratch cards in the Czech market was highlighted by Matuska. They were 'perceived as gambling products, where few individuals bought a vast number of cards'.
By intervening in the scratch card segment, Allwyn limited the number of cards available to Czech consumers. The products were then rebranded as gift cards, leading to '60% of Czech adults engaging with this new category'.
The pressing innovation needs of lottery incumbents brought up questions: Did key stakeholders in ticket sales, the shopkeepers, embrace the fresh changes introduced in their stores?
Chiara Marchegiano, Lottery Director of Sisal – the recently amalgamated pan-European lottery division of Flutter Entertainment – provided insights on this retail dimension.
"We must acknowledge the unique needs of retailers vending lottery products. In Italy, these might be kiosks, cafes, and tobacconists, all conscious of their in-store space limitations," she stated.
For Sisal, the focus is on updating the point-of-sale options for shop owners through their app. "If a customer wins an instant game, for instance, they can claim their prize straight away at the point-of-sale."
Sisal has unveiled an app tailored to the distinct needs of Italian consumers. "It offers the capability to complete the pay slip and then pay in cash at the point of sale, since credit card usage is still not widespread in Italy."
Major changes are anticipated over the next five years. Nonetheless, the panel remains optimistic that paper tickets will endure as the primary point of purchase for lottery enthusiasts.
Matuska pointed out: "There's an intensified focus on environmental concerns, particularly sustainability and waste management, which European lotteries are actively addressing."
"We're transitioning all lotteries to use FSE paper to enhance sustainability. However, I believe paper tickets will persist, as customers enjoy the tactile experience of holding and retaining their winning tickets."