Totalizator Sportowy's (TS) iLottery program began with the launch of three draw-based games in 2018. Since May 2020, all draw-based games including Keno and daily raffles are available online, accounting for 10% of total draw-game sales.
Five eInstants, known collectively as Gierki, were onboarded at the tail end of 2020. Since launch, the Poland iLottery program has significantly grown in terms of users, game content and revenues for good causes. Currently, TS boasts over one million registered players, with 36 eInstants in its game library and iLottery sales represent 14% of total sales.
Because most TS iLottery players engage in draw-based play only, it was exciting when TS achieved a remarkable milestone in fall 2022. September was the first month that eInstant sales surpassed online draw sales, thanks to sustainable eInstants portfolio growth and excellent TS marketing efforts, powered by IGT's guidance and shared best practices.
"We have an ongoing active promotions calendar refreshing bonus offers weekly to engage players ," said Maciej Kasprzak, Totalizator Sportowy General Manager of Online Gaming Division. "We also use traditional media to showcase our exciting Gierki games. Our most recent TV campaign featured people playing games as they went about their daily activities, highlighting top-performing titles, Pots O'Plenty, Cash Fever and Jammin' Gemstones, to name a few.
"This on-air campaign has had a direct impact on reaching our eInstant sales milestone. We are so pleased with the growth of the program, and the fact that 35% of people who play eInstants are between 18 and 30 years old."
A Balanced Approach
TS executes a balanced eInstants portfolio strategy that includes a mix of faster and more casual play styles that engage a range of player segments. IGT partners with TS to analyze game performance and player activity to recommend the right mix of games for the program, launching one to two times per month. All games are localized; name, logo, in-game text, and currency are all translated to meet Polish needs.
"We follow a data-based formula to ensure we develop and recommend relevant games. That, coupled with TS's knowledge of its players is a winning strategy," said Sebastian Meitz, IGT iLottery Account Development Director for Poland. "One play style and theme may resonate with a specific player segment, while another engages multiple player segments. Jammin' Gemstones is an example of a game with wide appeal, comprising a casual play style, tumbler mechanic, bright graphics, and a popular gemstone theme.
"Jammin' Gemstones launched in October 2021 and while many games typically taper off around month seven, it still performs well, 18 months later. This popular title is consistently featured in the top five sales rankings and in monthly average sales per player. It is a true best seller."
Football Fever
TS closed out the year with another chart topper, Pilka W Grze, The Ball in the Game, a bespoke eInstant developed by IGT. TS capitalized upon its ambassador relationship with Poland's national football team captain, Robert Lewandowski, to launch a Lewandowski football-themed eInstant, and a retail instant ticket to coincide with the World Cup.
"We have such tremendous pride for our best striker and TS ambassador Robert Lewandowski," said Mateusz Warpas, Totalizator Sportowy Head of Online Offer Team. "Sports is one of our social pillars, so it was a natural fit to create a Lewandowski football-themed game. The omnichannel content enables all TS lottery players a chance to interact with our football team brand online and at retail.
"We partnered with IGT on the development of the custom eInstant utilizing a top-performing tumbler mechanic and are extremely pleased with the outcome. IGT paid attention to featuring Lewandowski, amplifying the graphics from the instant ticket, and utilizing real-life sound effects. Players feel like they are at the match with sounds of the cheering crowd and whistles."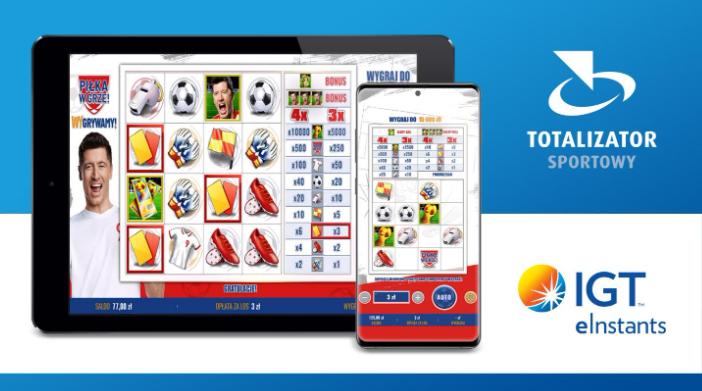 "Having Robert Lewandowski, one of the world's top strikers and a great athlete, as our ambassador is a huge honor for Totalizator Sportowy," said Kornel Eljaszewicz, Totalizator Sportowy Director of Events and Partnerships. "We are proud of the tangible results of our cooperation, and we are already planning to engage in more similar partnerships in the future. We received positive feedback, not only from our players, but also from the public. We believe this is a positive way to move forward."
The strategy to create relevant content in time for Lewandowski and the team to compete at World Cup was a winner. As predicted, the eInstant quickly became a top performer with 68% of TS iLottery players playing the game and ranking number one in sales in the first two months (November and December), respectively 84% and 34% higher than the second ranked game.
"Although we didn't bring home the trophy, we have a lot to celebrate," said Kasprzak. Our omnichannel launch was a great finish to a very profitable 2022 raising money for our good causes. We look forward to the rest of 2023 and our continued partnership with IGT, focused on delivering the best eInstants to our TS players."
2022 recap
| | |
| --- | --- |
| Top three performing games (all year) | Jammin' Gemstones, Dazzling Diamonds Deluxe, Pots O'Plenty |
| YoY iLottery sales increase | 52.4% |
| YoY eInstants sales increase | 93.3% |
| YoY eDraw sales increase | 26.8% |