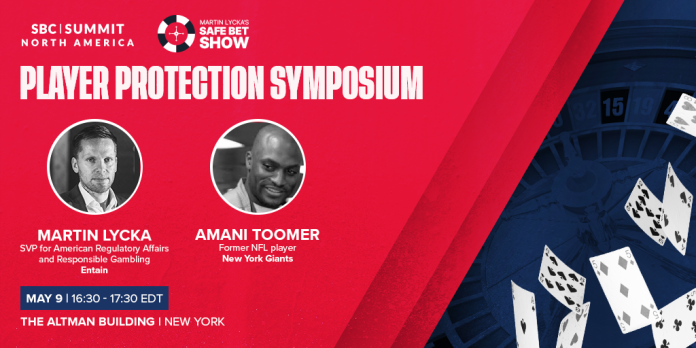 Amani Toomer, former NFL wide receiver and punt returner for the New York Giants and winner of Super Bowl XLII, is scheduled to appear on a special live episode of the 'Safe Bet Show,' a player protection podcast hosted by Martin Lycka, Entain's SVP of American Regulatory Affairs and Responsible Gambling.
The 'Safe Bet Show' will be featured in the Player Protection Symposium, which will take place on May 9th at the Altman Building in Chelsea, New York City. This symposium is a pre-day conference that's part of the SBC Summit North America, the premier iGaming and sports betting event in North America. The main conference and exhibition will be held on May 10-11 at the Meadowlands Exposition Center in Secaucus, New Jersey.
Launched in collaboration with SBC in April 2021, the 'Safe Bet Show' is a podcast where Martin Lycka examines how the industry is addressing player protection and social responsibility. Through interviews with leading figures, Lycka delves into various topics that are central to combating problem gambling.
Lycka and Toomer both serve as trustees of the Entain Foundation US, which is a unique non-profit organization dedicated to promoting responsible gambling, sports integrity, and corporate compliance in the United States.  The foundation has partnered with numerous organisations, including NCAA, NFLPA and NCPG, underscoring Entain's commitment to comprehensively address and reduce problematic gambling behavior.

Entain, in collaboration with some of the most prominent online gaming operators in the United States, has also taken a proactive role in driving the implementation of industry-endorsed responsible gaming standards, known as the 12-point pledge.

The company was previously recognized for its initiatives in this area at the 2022 SBC Awards North America, where the company was awarded the Socially Responsible Operator of the Year title. This year, the company is once again a nominee in the same category.
As a committed advocate for responsible gambling, Toomer is an excellent guest for the live Safe Bet Show. His background as a successful athlete gives him a unique perspective on the risks associated with problem gambling. During the show, Toomer will share insights about his sports career, his current role as a sports pundit, and his work with the Entain Foundation US.
Lycka said: "I am thrilled to have Amani as a guest on the live Safe Bet Show at the Player Protection Symposium. His commitment to promoting responsible gambling is inspiring and shows that it's not only industry insiders who can make a difference in this cause. Amani's appeal as a star athlete enables him to raise awareness among people about the risks of problem gambling.
"On a lighter note, I am eager to ask Amani whether he would have liked to play alongside Tom Brady (whose team suffered a defeat to the New York Giants in the 2007 Super Bowl XLII)."
Toomer said: "It's wonderful to participate in an event that emphasizes the significance of player protection. I first heard about the risks of problem gambling back when I was a college player in Michigan – it was a real eye-opener. Now that I've retired, I'm trying to be a part of positive change and spread awareness about the dangers of gambling, particularly among athletes and children. Let's work together to make a difference."
The pre-day conference program also comprises 'Compliance' and 'Leadership' tracks' which offer valuable insights to the industry on navigating regulatory complexities, leveraging technology for compliance-related issues, and integrating diversity and inclusion initiatives within their organizations.
_______________________________________________________________________________________________
Tickets to the conference and exhibition can be purchased on the official event website. A special discount is available for groups of three or more people, saving you $100 per ticket on your 2-day full event pass.