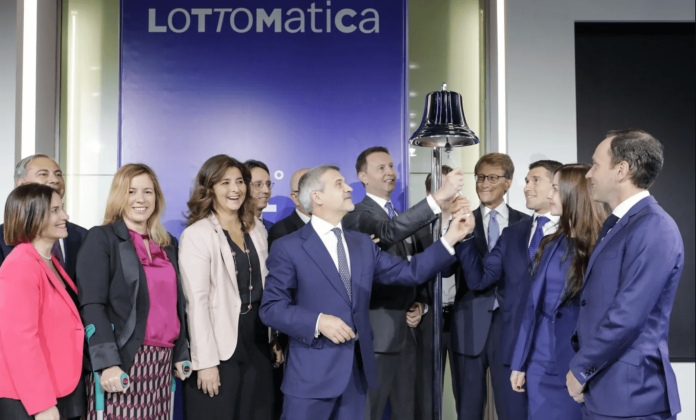 Lottomatica Group asserts it is set to achieve all primary goals set for its re-listing on the Borsa Milan by May 2023.
Publishing its year-to-date trading results for the initial nine months of 2023, Lottomatica reported gross gambling revenue (GGR) of €2.8bn, showing a 7% pro-forma growth across all fundamental business segments.
The rise in the headline GGR mirrors a 19% boost in the YTD wagering volume to €21.7bn (YTD2022: €18.2bn). This surge comes as an expanded group accounts for the assets of Lottomatica Better, Goldbet, and Betflag.
The YTD trading indicates net revenues standing at €1.19bn, a 12% jump from the 2022 pro-forma results of €1.06bn.
Lottomatica emphasised its online sector as the standout performer, yielding revenues of €374m. This denotes a 30% upswing from the YTD 2022 figure of €288m.
Retail growth has been sustained by the expanded Sports and Gaming subsidiaries, with the former recording €277.4m (a 10% increase) and the latter at €543m (up by 3%) from YTD 2022.
Offering an overview of the gambling landscape in Italy, the augmented Lottomatica discloses it commands a 21.2% market share. This includes a 20% foothold in sports betting and 21% in the igaming arena.
Given the strong YTD trading, Lottomatica reinforces its upwardly revised Q2 forecast for fiscal year 2023. The firm projects full-year revenue performance between €1.63bn to €1.69bn, and an adjusted EBITDA in the range of €570m to €590m.
Group CEO, Guglielmo Angelozzi, stated: "In the third quarter, we fortified our leadership stance, and our online sector has consistently augmented its market share across every product category and brand.
"Within the initial nine months, we attained an EBITDA of €426m, a 15% elevation compared to the same timeframe in 2022. We remain on course to meet our projections for fiscal year 2023 and persist in implementing our strategy for organic and M&A growth."