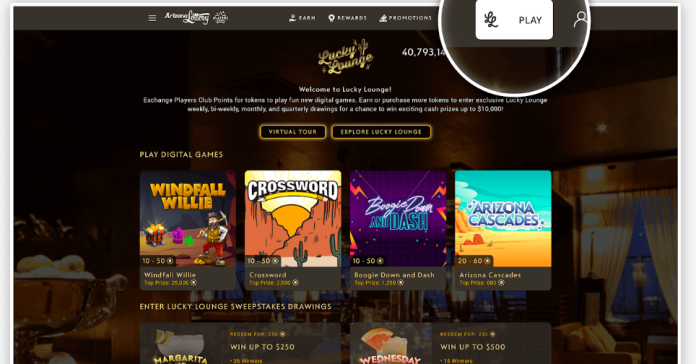 The Arizona Lottery has launched an innovative online sweepstakes platform, named Lucky Lounge. The platform, a unique addition to the lottery landscape, hosts a variety of games for players, while giving them a chance to earn tokens and compete for cash prizes.
Lucky Lounge brings to the table four interactive games that draw inspiration from classic lottery games and trending app store games. The platform guarantees to cater to all tastes, whether one seeks light-hearted play or wishes to try their luck.
The Arizona Lottery Executive Director, Alec Esteban Thomson, shared his enthusiasm on the launch. He said, "Lucky Lounge is the first lottery product of its kind, aiming to provide an engaging online sweepstakes experience with multiple winning opportunities. I take immense pride in our team for devising such a groundbreaking product that promises unprecedented player engagement."
This marks the first venture of the Arizona Lottery into the domain of sweepstakes platforms, paving the way for players to engage with their favorite games in a novel way.
To get started, participants are required to register for a Players Club account and take a virtual tour of the Lucky Lounge. Tokens, which function as the platform's currency, let players participate in games and cash-prize drawings. Players can earn tokens by playing games, purchasing them within Lucky Lounge, or exchanging their Players Club Points for tokens. Moreover, logging in daily ensures players receive 50 complimentary tokens to jumpstart their gaming journey.
With the advent of Lucky Lounge, players have a broader range of winning opportunities. Players can enter weekly, bi-weekly, monthly, and quarterly drawings within Lucky Lounge, with prizes going up to a whopping $10,000. Players can redeem up to 1,440 tokens daily to amplify their chances of a major win.
The Arizona Lottery Players Club app, which is available for download on mobile devices, further enhances the gaming experience by allowing players to enter drawings and play games anytime, anywhere.
Whether for fun or cash prizes, Lucky Lounge pledges an engaging gaming experience. Interested parties can visit AZLuckyLounge.com to join the game.
Since its inception in 1981, the Arizona Lottery, in collaboration with its retail partners, has produced over $5.2 billion in net funding. The funds are allocated to enhance various societal sectors including higher education, economic development, environmental conservation, and health and human services. The Arizona Lottery continues its commitment to support local programs by maximizing net revenue responsibly.