Groupe FDJ is hesitant to revise its full-year outlook for 2022 despite posting strong H1 results due to economic headwinds expected in the French economy throughout the rest of the year.
Publishing its H1 results, the operator of the French National Lottery reported a strong trading period, with revenues reaching €1.2bn, up 12% on 2021's results of €1.08bn.
FDJ H1 results show strong lottery performance
FDJ's H1 results displayed total stakes from lottery and sports betting combined surpassed €10bn, of which €8.02bn was attributed to lottery sales, up 16.5% YoY. 
The core division contributed €2.73bn in GGR, up 16% on 2021 corresponding figure of €2.4bn. The lottery division was boosted by the launch of several new marketing campaigns, costs of which grew by 25% to €86m.
Stakes for draw-based games increased by 17% YoY with €3.09bn in wagers made on draw games, driven by Amigo, saw stakes return to pre-pandemic levels. Loto and Euromillions also benefited from long cycles and large jackpots, resulting in larger sales.
Online lottery sales were also up 31% in Q2 specifically, and 14% for the half year, with this attributable to an increased number of lottery players choosing to play online.
Instant games sales were up 15% YoY to €4.93bn, mainly thanks to the reopening of retailers that sell instant products.
Positive lottery operations in FDJ H1 results saw the tax paid increase 13% to €2.04bn, leaving total lottery net revenues amounted to €943m, up from 805m one year ago.
Stéphane Pallez, Chairwoman and CEO of the FDJ Group, said: "The second quarter confirmed the positive trend at the start of the year, notably for the Lottery. Our business grew over the half year, both at points of sale and in digital."
Sports betting declines compared to EURO 2020
Lottery positive covered the decline witnessed in FDJ's sports betting division,witnessing a 5% drop in betting GGR to €485m. This was driven by a lower wagering volume against H1 of 2021 which featured the UEFA Euro 2020 tournament.
With the retailer network back up into full operations, FDJ H1 results revealed that costs of sales had increased to €652.1m, up from €590.8m last year. Furthermore, total marketing expenses swelled to €221.3m, up from €195.1m in H12021.
Despite increasing costs, FDJ posted a bottom line increase, with EBITDA increasing by 18% YoY to 308m, up from €261m in H12021. This saw an EBITDA margin increase of 1.3%, increasing to 25.4%. This all led to a net profit for the period of €160m, up 9.4% on the €146m made in H12021.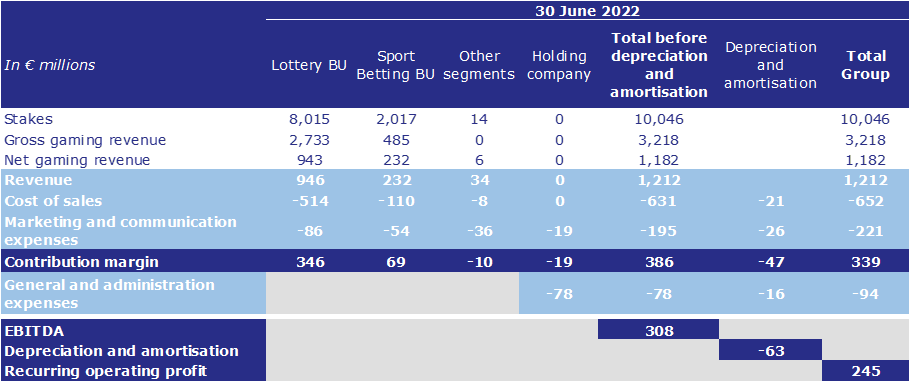 Wider economic pressures ahead
Whilst FDJ celebrates the improvement of operations and financial growth, Pallez erred on the side of caution and decided not to push forward with raising the group's full-year guidance.
'Economic headwinds are bound', FDJ noted, with living cost increases likely to dent wagering patterns. It cited 'uncertainties regarding the economic environment', with the ECB raising interest rates for the first time in 11 years amid spiralling inflation across the trading bloc. With inflationary pressure only exacerbated by the war in Ukraine, FDJ is remaining cautiously optimistic about the future.
Pallez concluded: "Given the deterioration in the global economic environment, the Group remains cautious but confident in its outlook, based on its extensive and responsible gaming model. We continue to invest to back the development of our activities, including those of Payment and Services, with two acquisitions, Aleda and L'Addition.
"The Group is pursuing its sustainable and profitable growth strategy for the benefit of all its stakeholders."